Meet Harmoney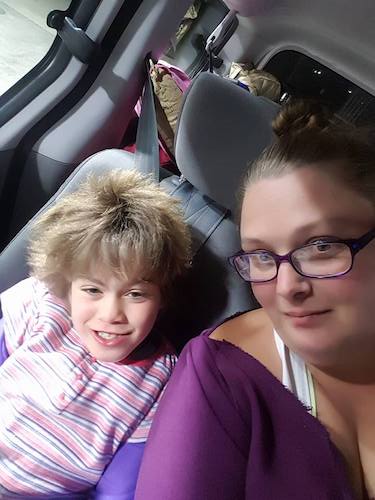 With five children, two of whom have MPS III, Harmoney Hudson has her hands full. Life is stressful and busy and she doesn't get a lot of time for herself. Harmoney says her support group is her saviour and it has seen her through the years since her children's diagnosis. She has made lifelong friendships and has enjoyed spending time with others who understand what she is going through.
Like all parents who face an MPS diagnosis for their child, Harmoney felt shocked. What makes her story unusual however, is that she had two children diagnosed at the same time.
Busy with five children under six including a newborn, Harmoney noticed her daughter Chloe wasn't developing at the same rate as her older children, but she hadn't noticed any signs in her younger child Jonras. She had raised concerns about Chloe several times but had been told that different children develop at different rates and not to worry too much.
Eventually, Harmoney arranged another appointment with her paediatrician. After observing her four youngest children, he requested urine tests on Chloe and Jonras. When the tests came back abnormal, both children were referred to Westmead Hospital and diagnosed with MPS a few weeks later. Chloe was three years old at the time, and Jonras was only two.
Chloe and Jonras have MPS III (Sanfilippo Syndrome). Chloe, now eight, is no longer verbal and is finding walking increasingly difficult. Jonras, at seven, has a few words and is still walking around, although falls are becoming increasingly common. They both attend Glenvale Special School and love school life. In fact, they are disappointed when school holidays come around because they miss the routine and excitement that school brings.
Life for the Hudsons is extremely busy and Harmoney often finds it stressful and frustrating. The family take advantage of four hours respite every fortnight when Chloe and Jonras attend a local day program, but Harmoney usually spends that time "cleaning and catching up".
Finding support in others with shared experience has made a big difference for Harmoney throughout her journey. Not long after Chloe and Jonras were diagnosed, she joined a local playgroup for children with additional needs. She also gets some much-needed time to focus on herself when she attends a local parent support group on Monday and Thursday evenings. "The support group has helped me get through over the years," she says. "I lost a lot of friends after the kids were diagnosed – they just couldn't seem to cope with our situation. You don't necessarily have to be around people who are in the exact situation that you are – just spending time with a group of people who understand makes all the difference."
The family also get a chance to spend time with others with lived experience of MPS through the biennial MPS Society National Conference and a yearly Xmas party run by one of the MPS families in Sydney. Harmoney says this is something they all enjoy and as a parent she feels more relaxed because she doesn't have to keep a constant eye on Chloe and Jonras.