Meet Sam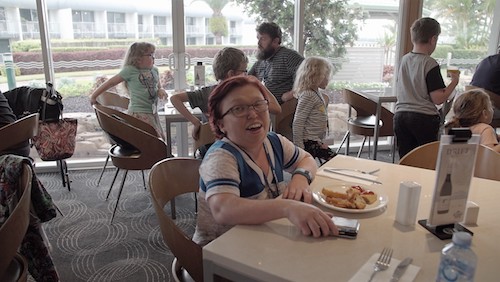 I'm an adult - Sam Prior's Story
Sam Prior was diagnosed with MPS VI 25 years ago, well before the time of Google, when there was very little information and support available. In fact, very little was known about the disease at all. As an adult Sam has lived by her own rules because, with a disease so rare, even today 'doctors are only really operating on their best guess'. While she always listens to the advice she is given, she refuses to limit herself to it. "Just because something is difficult, doesn't mean you can't do it," she says.
Sam Prior may have MPS VI, be four foot three, and average three to four operations a year, but she has made a point of living her life as 'typically' as possible. She had an active childhood, was your average sullen teenager, partied her way through her twenties and makes light of her personal struggles, counting herself as one of the lucky ones.
Diagnosed at five years of age, Sam was one of the first known cases of MPS VI in Australia. Her parents were given little more than a pamphlet and a wave of good luck at the time, and for many years were forced to muddle their way through the issues that cropped up.
Sam's MPS mostly affects her bone structure. She has stiff joints and a narrowing of the spinal canal. In her 30 years of life she's had two hip replacements, two spinal surgeries, shunt procedures, both corneas replaced and open heart surgery to name just a few.
As a child, Sam was always sick with chest and ear infections, but eventually her family moved from Wollongong to Townsville in search of warmer weather which made a world of difference to Sam's respiratory problems. These days, despite her regular hospital visits for operations and treatments, Sam sees herself as a generally healthy person.
Wherever possible Sam has avoided using aids and equipment. "If it takes me longer to do something, then so be it," she says. "I think that attitude comes from the way I was raised – my parents rarely made exceptions for me, I rode my bike to the beach every day during summer, just like all the other kids."
Sam attended mainstream school, has a university degree and now devotes herself to advocating for families who are awaiting approval to enter the Life Saving Drugs Program. These families sit in limbo for months on end as their child's health declines, desperate to access the drugs that could save or vastly improve their life.
She also works with families who missed out on being part of trials for the new MPS IV Enzyme Replacement Therapy drug. Of the 18 people in Australia who have MPS IV, five missed the cut off date and cannot access the drug. "It's the worst thing to have something just out of reach – these parents can't do anything for their child but continue to fight for access."
It's an emotionally draining and relentless job, but Sam feels it's perfect for her. With lived experience of MPS she can empathise with the families, she has lived in three different states so has connections in each, and she is passionate about educating as many people as possible about MPS.
When she has the chance, Sam indulges her passion for travel. She's been to Thailand, Malaysia, Hawaii (three times), the UK and Europe. She tries to get away once a year for about four weeks and crams in an extra Enzyme Replacement Therapy treatment either side so she doesn't miss too much. She usually travels with her cousin or her mum.
Sam says she owes much of her positive attitude to her family who are all known for their humour, banter and general ribbing of each other. "My family have always approached my situation in that way – using humour to get through the tough stuff. They've never treated me any differently, and for that I'm thankful."