Meet Susan
I'm a carer - Susan Cooper's Story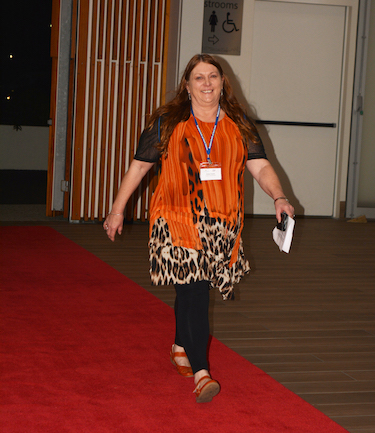 Susan Cooper describes being a carer as an amazing journey; one that provides a whole new perspective on life. She is proud of her work creating opportunities for people to be active members of the community and enjoys getting to know her clients and their families. She took part in the last MPS National Conference as a carer and was blown away by the strength and support it provides families. She also sees it as a fantastic opportunity for both professional and personal development.
Susan Cooper loves being a carer. You can hear it in her voice. When she talks about her job and the people she works with, it's obvious how much she enjoys being part of their lives and supporting them to do the things that make them happy.
Susan has been working with Max who has MPS III for 11 years. While Max is unable to speak, Susan has learnt how to read his body language and different reactions to things and she can usually tell what he needs or if he is unhappy about something.
Over the years, Susan has come to know Max and his family very well. She has learnt about the things they enjoy doing together and what Max loved to do when he could walk. This insight has helped her plan a range of activities that Max enjoys today.
Max and Susan often go to a local bushland reserve and spend time amongst the trees. It's obvious from the look of joy on Max's face just how relaxed he feels when he is there, especially if he has been having a bad day. Even though Max can no longer shoot hoops, he and Susan still play catch, which always brings a smile to his face.
As a carer, Susan's priority is to get people out and about and make sure they are active members of the community. Unfortunately, sometimes people's lack of understanding can mean they treat Max strangely, but generally people are kind and often stop to talk to them when they are out on a walk. She and Max go to the local shops for a milkshake or to one of the large shopping centres for a wander around.
Susan admits that caring is a sobering profession that helps you realise what others go through. "The strength I see in the parents whose children have MPS is remarkable. The way they juggle their complex lives and support their loved ones is amazing. Seeing what these families go through has had a huge impact on me – and makes me realise what I and others take for granted."
The MPS National Conference brought this home for Susan last year, when she attended as a carer. "It was an amazing thing to be part of. All these people coming together to make a difference and the strength they all give each other is breathtaking."
In fact, Susan enjoyed the experience so much that she will be attending the next conference as a volunteer. "It's a great opportunity to learn more about MPS. I see it as education and personal development, which helps me do a better job as a carer."